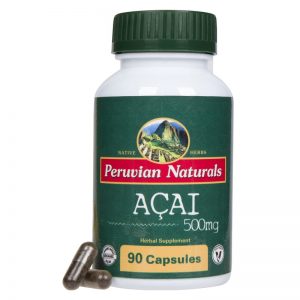 Peruvian Naturals has just launched Organic Acai capsules, which contain 500 mg of certified-organic, dried Açai (Euterpe precatoria) fruit powder in a vegetarian capsule, for $9.99.
Buy 1 Get 1 Free for a limited time!
Promotes Healthy Aging
The Açai tree, known as "huasai" or "chonta" in Peru, grows up to sixty feet in height in the floodplains of the Amazon rainforest. The tree's dark purple berries are a half inch in diameter with a tiny seed at the core. Açai berries have been shown to reduce oxidative damage in flies as well as in vitro cultures from cows and humans, suggesting the fruit could promote healthy aging and be taken as a defense against oxidative stress. *
Peruvian Naturals Açai powder is certified organic, and the vegetarian capsules are certified vegan, kosher and halal.
Interested? For a limited time we're running a Buy 1 Get 1 Free promotion on Amazon.
Add two bottles of Acai capsules to your cart.
At checkout, apply this promo code: XE77JYXL.
That's it! Here's the copy-and-paste link:
https://www.amazon.com/Organic-Acai-500mg-Capsules-Certified-Organic/dp/B078TKX67R/
Buy now before the promo ends!
If you like Acai and want us to keep it in stock, please leave a review. For us to keep new products in stock, there must be a buzz, and nothing gives us genuine feedback like Amazon reviews. Also let us know if you'd rather have Açai in powder.
And remember, 3 percent of Peruvian Naturals earnings are donated to small farms and agricultural businesses in rural Peru. So you're making a difference … thanks!
* These statements have not been evaluated by the Food and Drug Administration. This product is not intended to diagnose, treat, cure or prevent any disease.