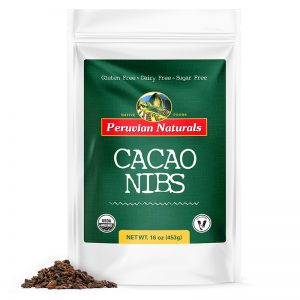 After a long delay in offering Cacao Nibs, we have the all-natural, unsweetened cocoa bites available again on Amazon.com. We increased the size of the pouch from 8.8 ounces to a full pound.
For a limited time, but a pound of Nibs and get a free bottle of Maca Nitro capsules. Simply add both items to your cart and the Maca Nitro will be free, no code needed!
Cacao Nibs (Theobroma cacao)
Cacao nibs are the inside filling of roasted beans from the Theobroma cacao tree, which is native to the rainforests of Central and South America. 'Cacao,' which is the Spanish word for 'cocoa,' has become the English word used to refer to unprocessed chocolate. Cacao Nibs are unprocessed cocoa beans, which can be blended with sugar, milk and other additives to make sweet chocolate.
Cacao Nibs are a nutritious snack packed with healthy fats, fiber, iron, calcium and other vitamins and minerals. Cacao Nibs can be used in cooking to make healthy chocolate chip cookies and brownies or mixed into yogurt, cereal and smoothies.
Three percent of Peruvian Naturals earnings are invested in small farms and agricultural businesses in rural Peru. See more about Peruvian Naturals philanthropy at www.kiva.org/lender/peruviannaturals.